Today, some astronomers now refer to this star as HD 172555, as it is listed in the Henry Draper (1837-82) Catalogue with extension (HDE), a massive photographic stellar spectrum survey carried out by Annie Jump Cannon (1863-1941) and Edward Charles Pickering (1846-1919) from 1911 to 1915 under the sponsorship of a memorial fund created by Henry's wife, Anna Mary Palmer. As a relatively bright star in Earth's night sky, the star is also catalogued as Harvard Revised (HR) 7012, a numbering system derived from the 1908 Revised Harvard Photometry catalogue of stars visible to many Humans with the naked eye. The HR system has been preserved through its successor, the Yale Bright Star Catalogue -- revised and expanded through the hard work of the late E. Dorrit Hoffleit (1907 - 2007) and others.
The Star
HD 172555 is a star of spectral and luminosity type A5-7 V-IV that may have already evolve off the main sequence into a subgiant (NASA Stars and Exoplanet Database; and SIMBAD). The star may have around 1.7 times Sol's mass (NASA Stars and Exoplanet Database; and David F. Gray, 1992), around 1.55 +/- 0.07 times Sol's diameter (NASA Stars and Exoplanet Database; and Kenneth R. Lang, 1980); and around 7.8 times its theoretical bolometric luminosity (NASA Stars and Exoplanet database; and Kenneth R. Lang, 1980). It may be as young as 12 million years old (Spitzer press release; and Zuckerman et al, 2001). Useful star catalogue numbers for the star include: HR 7012, Hip 92024, HD 172555, CP-64 3948, SAO 254358, FK5 3489, and 2MASS J18452691-6452165.
The orbital distance from HD 172555 where an Earth-type planet currently would be "comfortable" with liquid water is centered near 2.8 AU -- between the orbital distances of Earth and Mars in the Solar System. At that distance from the star, such a planet would have an orbital period around 3.6 years. It would be very difficult for astronomers to detect with today's astronomical instruments and methods.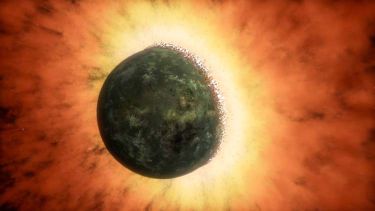 SSC, JPL, Caltech, NASA


Larger animation still.


The collision pulverized the Moon-sized
object and sent shockwaves that also sent
rocky debris from the larger Mercury-sized
object in space around HD 172555, including
the recently detected Silicon Monoxide gas,
melted rock as glassy substances like
obsidian and tektites, and rocky rubble (more).

Dust
Infrared excess from dust particles of minimum silicate, carbon, and silica sizes of 0.9, 1.2, and 1.3 micrometers was detected around HD 172555 (Chen et al, 2008; Rebull et al, 2008; Chen et al, 2006); and Weinberger et al, 2003). No planetary or brown dwarf companions have been founded as yet (Lagrange et al, 2009).