Recycling on the Space Station - Life support systems on the International Space Station supply oxygen and remove carbon dioxide from the station atmosphere. They also prevent gases like ammonia and acetone, which people emit in small amounts, from building up to dangerous levels. Indeed, vaporous chemicals from science experiments are a potential hazard since they can combine in expected ways with other elements in the air supply.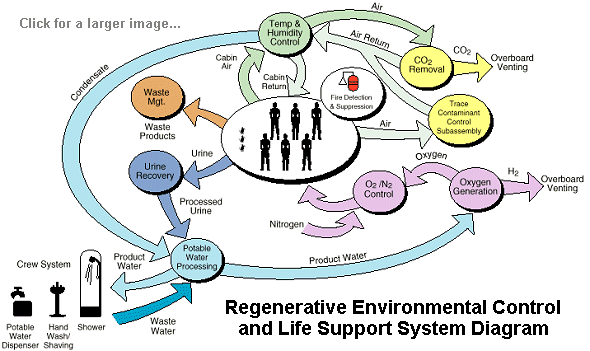 NASA (Recycling on the International Space Station -- larger image.)
Initially, Space Station personnel breathed oxygen from "perchlorate candles," which produce oxygen using chemical reactions inside a metal canister. Later, the arrival of new equipment was used to produce oxygen using "electrolysis," which uses electricity from Solar panels to split water molecules into hydrogen gas and oxygen gas. Currently, carbon dioxide is removed from the air by a machine using a material called "zeolite" as a molecular sieve, while hydrogen that is generated from this process is vented into space. Eventually, however, a machine will be used to combines the hydrogen with excess carbon dioxide from the air in a chemical reaction to produce water and methane. The water produced would partially replace the water used to make oxygen, while the methane would be vented to space. In the event of breakdowns, however, the ISS will maintain redundant supplies of oxygen gas for the safety of the crew.
In Humans, methane and carbon dioxide are produced in the intestines, and ammonia is created by the breakdown of urea in sweat. Humans also emit acetone, methyl alcohol, and carbon monoxide, as the byproducts of metabolism through urination and breathing. Currently, activated charcoal filters are the primary method by which these chemicals are removed from the air.
In the short term, such chemical-mechanical systems are much more compact, less labor intensive, and more reliable than a plant-based system, at present. Such systems, however, would be too expensive for the long-term habitation of Humans in space (see "breathing easy on the space station" from NASA).
Water Recycling - Water recycling also implies purification. Artificial or natural filters remove particles and debris then other other organic and inorganic impurities from waste water. In artificial systems, "catalytic oxidation" is used to remove volatile organic compounds and to kills bacteria and viruses. Waste waters from fuel cells, urine, oral hygiene, bathing, hand washing, and humidity in the air must be recycled. Otherwise, around 10,000 pounds of water per year would have to be lifted from Earth (or farther places) per year of water from Earth for each Human personnel of a space habitat.